Our 2016 training calendar has been updated with details on our upcoming 2016 quarterly training events (more on that below). New classes will be added as we learn about them. Currently the next scheduled FAST class will be at the GSAR Academy in October-November. This event will be at Hungry Mother State Park in Marion, VA. VDEM's Advanced Tracking class will likely be schedule for early December.
Winter 2016 Training (February)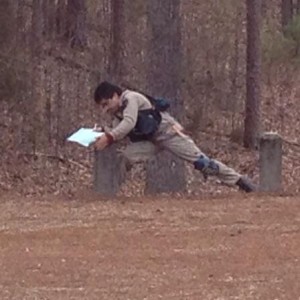 SARTI's Winter 2016 training will be held next weekend February 12-14 at Twin Lakes State Park. It is open to all members and prospective members. Some topics may include aging and longer distance signcutting techniques.
Spring 2016 Training (May) Search and Rescue Exercise
Also, our Spring 2016 training will again be in conjunction with the Blue Ridge Parkway Search and Rescue Exercise (SAREX), May 13-15. This year it will be at the Blue Ridge Music Center near Galax, VA. All disciplines are invited to participate, not just trackers! The simulation will take place on Saturday, May 14th. SARTI will set up tracking exercises on May 13th and 15th to supplement the exercise with our training. Camping will be available on-site. As usual, meals will be on your own, except for the possibility of a catered meal on Saturday night (for a fee).
Please feel free to invite others from your teams, and from surrounding teams or 1st response agencies that you think might be interested! This is opened to all states and is not Virginia specific. We'd like to aim to have participants from all of the surrounding states (MD, WV, TN, NC, KY) and we may have a small prize this year for the individual or agency that travels the farthest.
For more information you can visit our event page here or email BlueRidgeParkwaySAREX [at] gmail (dot)com.
Due to liability issues all personnel participating in the SAREX must have at least one of the following qualifications: VA STM, NASAR SAR Tech, NPS employee, or member of a fire/rescue, SAR or law enforcement agency. Trainees may be allowed under direct supervision of their agency and with permission of the Incident Commander.